At the start of a project it is key to assess your financial risk and potential profitability. You can easily do this by running an "initial forecast/projection" after you have configured your project's job cost estimates and contract amount. This will provide a well-calculated prediction of expected revenue versus known costs so you will not find yourself in a negative cash-flow situation.
To get an initial forecast/projection, you will need to review your "Cost Details" and "Cost to Complete" reports which will update your project summary screen to display your "Projected Gross Margin". On your Project Summary Page most fields in the "Contract Details" widget are not populated and show that you will be finishing the project at 100% margin.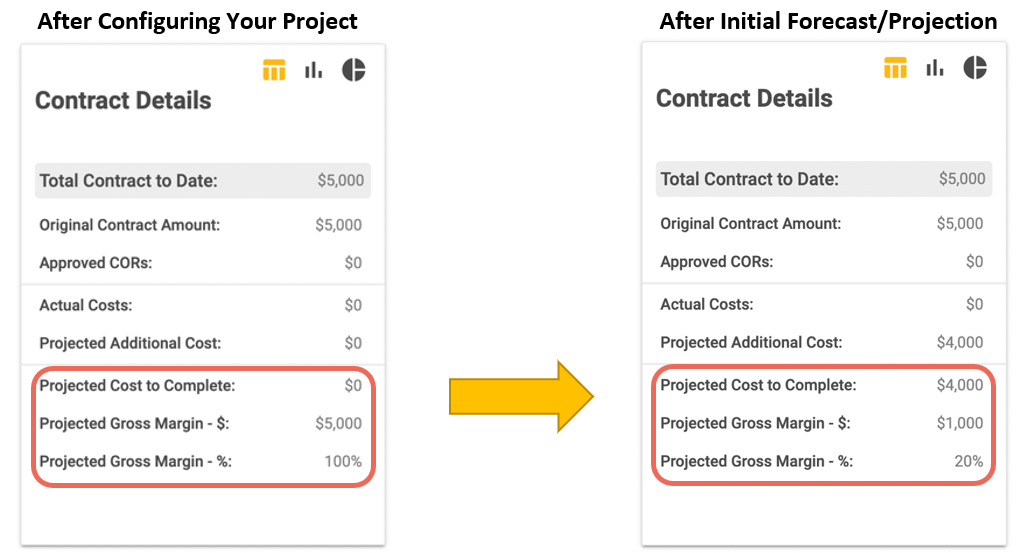 To capture your initial forecast/projection, follow these steps:
Navigate to the desired project
Select Reports & Graphs > Cost Details

Ensure that all of your desired cost codes are shown under each cost type and that the "Original Contract Budget" & "Contract Budget to Date" values match your input job cost estimates.
The "Total Committed Cost" and "Actual Cost" columns will either show $0 or Blank if no costs have been applied by means of Timecards, Daily Reports, Purchase Orders, etc.

Select Copy from Committed in the Actual Cost Column
Navigate to Reports & Graphs > Cost to Complete

Ensure all contract budget amounts and other data is accurate

Select Copy from Cost Details under the "Actual Costs Through XX/XX/XXXX" column
Select Copy from Cost Details in the "Projected Additional Cost" column

This will add the full budget amounts to each Cost Type, indicating that at project start-up, you intend to use 100% of your estimated budget to complete the project.

Select Calculate & Save at the bottom of the page

Take note that all values in the "Variance from Budget" column have been cleared displaying a $0.00 and 0% Gross Margin. Your "Projected Cost to Complete" column will update to show your Estimated Gross Margin by Dollar ($) and Percent (%)

Under "Notes" indicate that this is the "Initial Projection" and select Archive at the bottom of the page
Navigating back to the Project Summary page of your project, you will notice that the "Contract Details" widget has been updated to show your "Projected Cost to Complete" and projected gross margin.
For more information, review the Cost to Complete Report article.