The Labor Unit Productivity provides unit tracking by Cost Codes or Job Costing when filtered by Labor Class. Tracking Labor Unit Productivity provides real-time insights into contractors' field productivity. The Labor Unit Productivity Report allows Foremen, Project Managers, and Executives the ability to compare budgeted to actual unit productivity as the project progresses, so that they can make proactive changes to increase profitability.
About this Report:
The labor Unit Productivity report is viewed at a project level. From a project, navigate to Reports & Graphs > Labor Unit Productivity.

The report will initially display according to the defaults set in "Company Preference

s".

The report can be filtered by the following:
System/Phase

Cost Code

Date Range

Unit Tracking View - S

elect either Units per Hour or Hours per Unit. To display the Units per Day column in the Estimated and Actual section

s of the report, check the Show

U

nits per

D

ay option.

Units per Day is calculated based on an 8-hour

day.

View Report By - Choose either Cost Code or Labor Class
Once the desired options are selected, click Query Data to run the report.

Updating Default Preferences:
Enable Labor Unit Productivity Tracking:
Navigate to Start > Settings > Administration > Company Setup > Company Preferences > DRs
Under Input Forms section, select either DRs or Timecards as the source for the hours that feed into the Labor Unit Productivity Report
Ensure that "Include Unit Tracking" is set to Yes
Click Save Data at the bottom of the page. Once Unit Tracking is enabled, installed units can be entered in the Daily Report Crews section.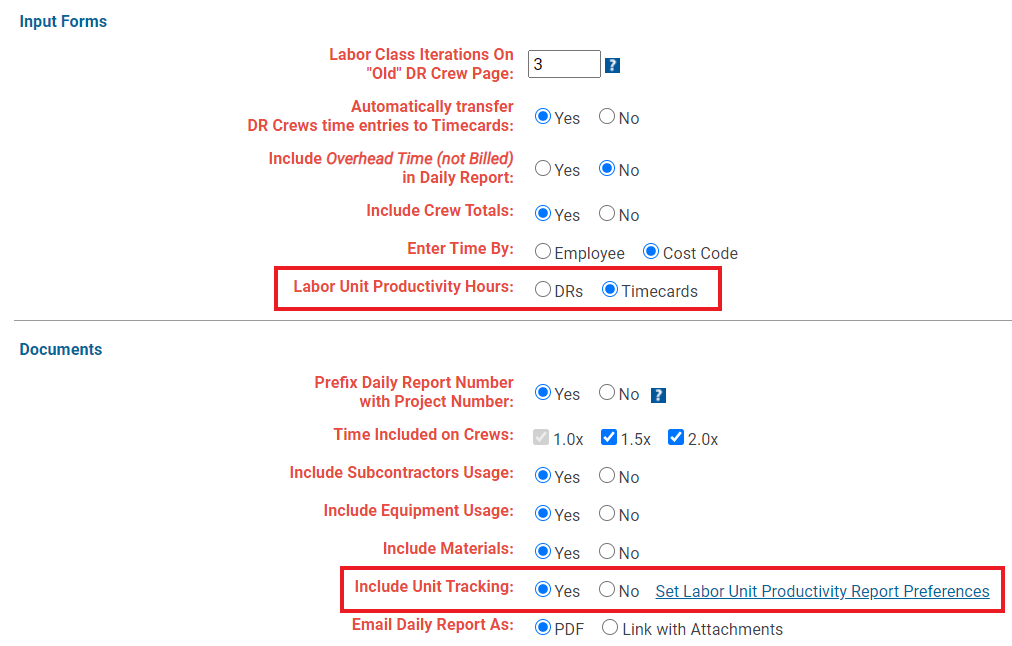 Configure Default Report Settings:
Click on the link "Set Labor Unit Productivity Report Preferences" link (see screenshot above) from the DRs Preferences page or navigate to Start > Settings > Administration > Company Setup > Company Preferences
Scroll down to find Reports
Default Unit Tracking: Units per Hour or Hours per Unit
Include Units Per Day: Yes or No

This is calculated on 8-hour day

Labor Unit Productivity Values and Calculations:
Estimated
Original Budgeted Hours = derived from Job Cost Estimates in Project Configuration
Approved Change Order Hours = derived from Change Order Requests with an Approved status
Budgeted Hours to Date = Original Budgeted Hours + Approved Change Order Hours
Units: derived from Job Cost Estimates in Project Configuration
Units per Hour = Units / Budgeted Hours to Date
Hours per Unit = Budgeted Hours to Date / Units
Units per Day = Units / (Budgeted Hours to Date / 8)
Actual
Used Hours: = derived from Daily Reports or Timecards (based on Company Preferences)
% Used Hours = (Used Hours / Budgeted Hours to Date) * 100%
Units: derived from Daily Reports
Units per Hour = Units / Used Hours
Hours per Unit = Used Hours / Units
Units per Day = Units / (Used Hours / 8)
% Units Completed = (Actual Units / Estimated Units) * 100%