Users may access eSUB via the following login procedure.
Enter Subscriber Code
Access your secure web portal at: https://www.esubonline.com
Enter your Subscriber Code. The Subscriber Code is a unique code generated for your company. This is included in the website/database activation email. 
Select Login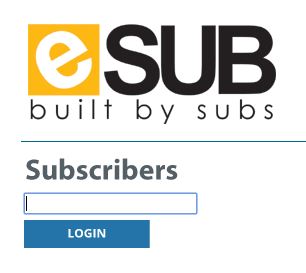 It is recommended that you bookmark the next page asking for your username and password.

Enter Username
Your full email address including domain (e.g. " johndoe@mycompany.com".)
Enter Password
Your unique password.
Remember my settings
Click the box to store your username and password on your computer for future logins.  Note that this feature does entail a security risk and should not be used if there is a concern that others have access to your computer.
Forgot your password?
Click this link if you have forgotten your password.  You will be able to request your password to be emailed directly to your Username email address.
Select Login
Select the LOGIN button to access eSUB.

Notes
After logging in you will be presented with the highest level hierarchy page as defined in the company's setup definitions (see eSUB Company Preferences.)