Equipment can be shown on Change Orders, Daily Reports, Equipment Rental and Resource Management.
Users Who Can Access
Executive Administrator
New Equipment
Navigate

>

Administration

Company Setup

>

Equipment

Complete fields as outlined above

Save Data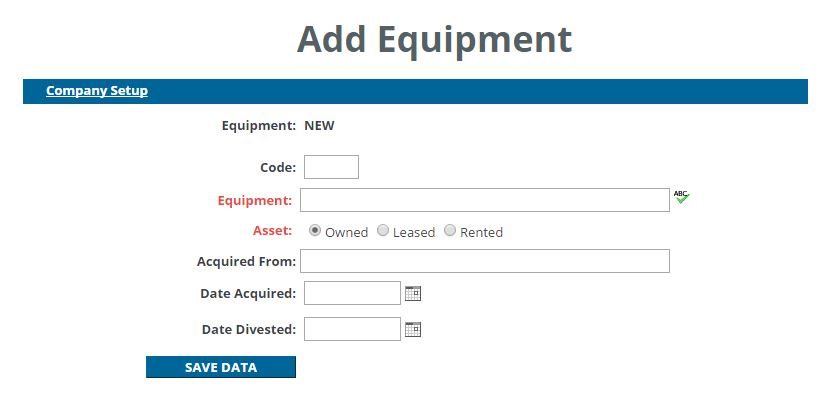 Current Equipment
Equipment Status
Search For Equipment by Status
Action
Displays Action Icons that allow you to manage existing equipment entries.

    Edit information and projects it shows up on
Code
Optional field. Used to track each piece of equipment, if you have several of the same type.
Equipment
Description of the equipment item.  
Asset
How this piece of equipment was acquired.
Acquired From
Who or where the equipment was acquired.
(Date) Acquired
When the equipment was acquired.
(Date) Divested
When the equipment stopped being used.
Status
Active items show on projects, Inactive items do not show on projects.
Edit Equipment
 Edit icon next to the Equipment
Update information

Save Data
Status
Inactivate Equipment
Inactivating equipment when you are no longer using it.
Select

Active

next to equipment
Active Equipment
Activate when you use a piece of equipment that has been inactivated.
Equipment Status

"

Inactive"

>

Search For...

Select

Inactive

next to equipment
Note
If there is a "-" on the Hide column under project preferences, the equipment has been used on the project and may not be hid.