eSUB's "Milestones" feature allows you to set and review key Project dates in order to evaluate progress made.  Milestones are maintained and reviewed at the Project level.
How Milestones are created...
Milestones are created by users with a level of Executive Administrator via Add Milestone.  There are five milestones that are automatically created for each Project:
Contract Award

Contract Start

Contract Finish

Project Start*

Project Finish*
An Executive Administrator may create additional milestones or edit existing milestones.  
*These titles cannot be renamed in order to safeguard other product data integrity.
How Milestones are used...
Milestones are maintained at the Project level via Project Milestones.  You may edit the estimated date, actual date, and notes for each displayed milestone.
At the Project level milestones may be reviewed via Project Summary.  
Each milestone is displayed in the sequential order previously established by the eSUB Administrator and shows the associated dates, result, and notes.
Milestones having neither an estimated or actual date are flagged with a "n/a" result.  This is usually the case where a specific milestone does not apply to the current Project.

Milestones having either an estimated or an actual date are flagged "open".

Milestones having an actual date preceding or equalling the estimated date are flagged as "made".

Milestones having an estimated date preceding the actual date are flagged as "missed".
Viewing Milestones through the mobile app:
You can view milestones through the eSUB mobile app by enabling the weblinks for "Project Summary". To enable weblinks:
From the home screen, select "your name" in upper right hand corner and select Settings
Enable "Project Summary (Web)" by checking the box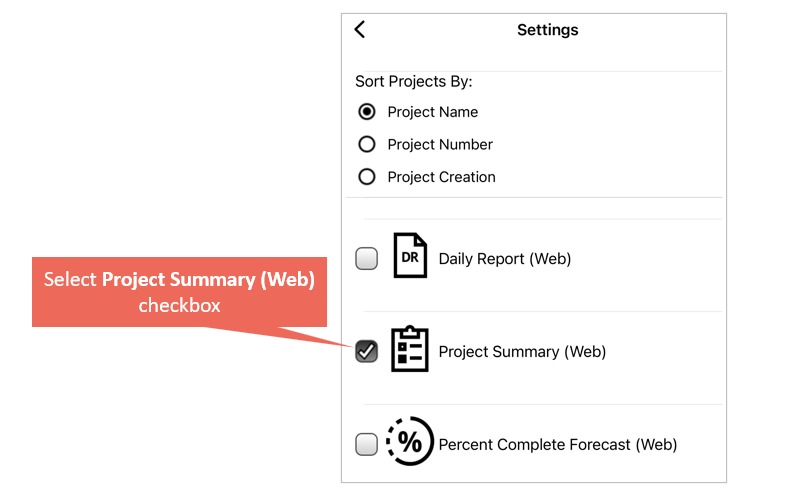 Once weblinks are enabled:
Select desired project, and scroll down to Project Summary (Web)
This will open up a mobile friendly instance of the project summary page in the app
Scroll down to the bottom (depending on permissions and widgets populating for the user) to view the applicable project milestones and status.