Overview
Units Per defines a company's unit tracking measurements. For example: Square Foot, Linear Foot, Box, Bag, etc.
Units Per Price allows a user to order a fraction of the units represented in the material's list price on a purchase order. Most commonly used when ordering items by linear foot, such as wiring or cabling.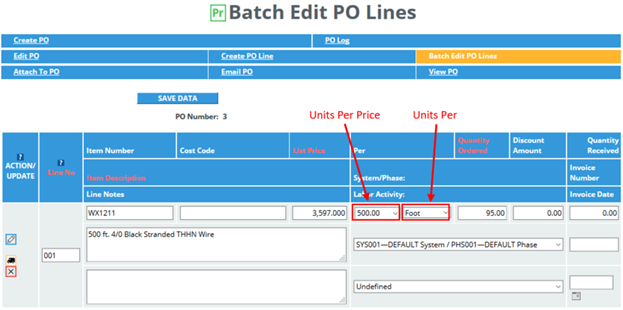 Example 1: The material being ordered is a type of wire which comes in spools of 500ft. Using Units Per Price and Units Per, the material has been defined to contain 500 units of 1 foot each. The Quantity Ordered field specifies that 95 feet are being purchased.

Example 2: When the Purchase Order is viewed, one can see how the Item Total of the material has been adjusted to reflect that only a portion of the material is being purchased.
Go to Start > Settings > Administration > Company Setup > Units Per
Enter the Unit Per measurement in the Unit Per field
Select Save Data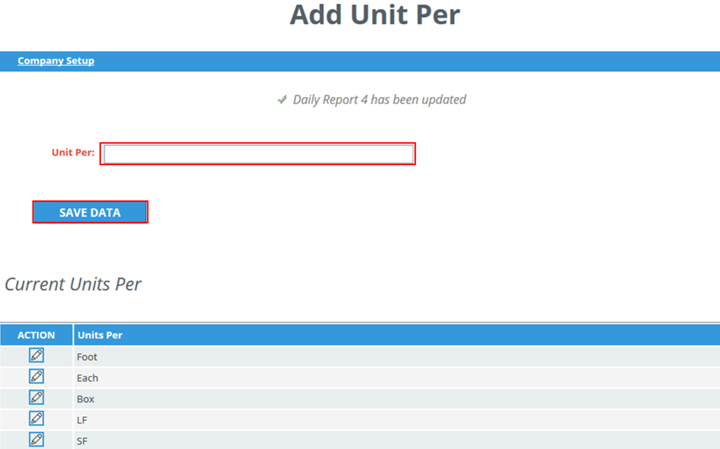 Go to Start > Settings > Administration > Company Setup > Units Per
Select the Edit (pencil) icon on the Units Per
Enter the desired text in the Unit Per field
Select Save Data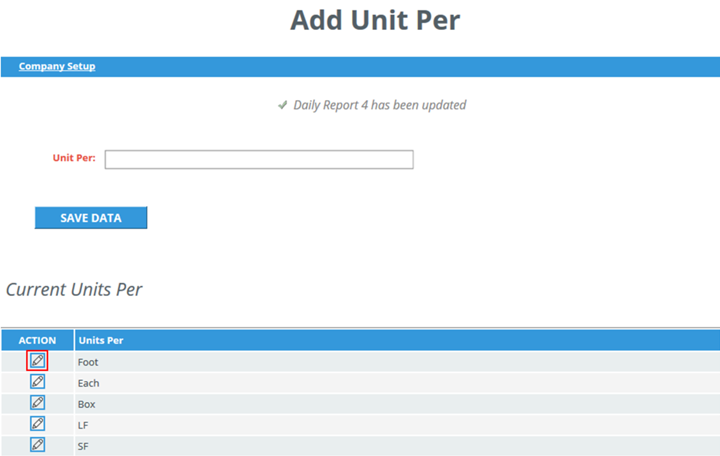 Go to Start > Settings > Administration > Company Setup > Units Per Price
Enter the new Units Per Price in the Units Per Price field
Select Save Data
Go to Start > Settings > Administration > Company Setup > Units Per Price
Select the Edit (pencil) icon on the Units Per Price
Enter the desired amount in the Units Per Price field
Select Save Data