The next phase of eSUB's new user experience to be more modern, mobile, and flexible has launched – Project Summary. The goal of the new Project Summary screen is to present information in a meaningful way enabling users to receive a quick snapshot of a project's key performance indicators. With information about project risk and profit available in one screen, users can easily identify items that need immediate attention.
NOTE: In an effort to provide you with critical insights into profitability and risk, some of the label links on the widgets now go to specific reports instead of logs.
To access your Daily Report log to create, view, or edit Daily Reports, go to the top navigation menu and click on Construction Docs > Daily Reports.
To access your Change Order Requests log to create, view, or edit Change Order Requests, go to the top navigation menu and click on Job Cost Docs > Change Order Requests.
Please contact our support team at support@esub.com with any questions.
Highlights of the Redesigned Project Summary
Focused on Profit Protection

The main things that keep Project Managers and Executives up at night:
Will we make money on this project?
Where is my risk?
The new Project Summary screen delivers the 30,000 ft overview on a project's risk and profits in one screen. Dashboards on document management and financial reporting highlight items that need immediate attention to mitigate risk and protect profits.
Dashboards
eSUB captures a tremendous amount of data related to project costs, labor hours, and even time between approvals. See at-a-glance job costs or the average days of late responses to RFIs. The new dashboards in Project Summary screen make it easy to visualize and interpret critical project information.
Flexible Views
The New Project Summary Screen delivers more flexibility for you to view the data in a way that is meaningful for you: either as a table, a bar graph, or a pie chart.

The table displays information in a straightforward grid. The graph will show you show you the value of each category, and historical data in some modules. The pie chart shows the relative proportion of each category as a percentage of the whole.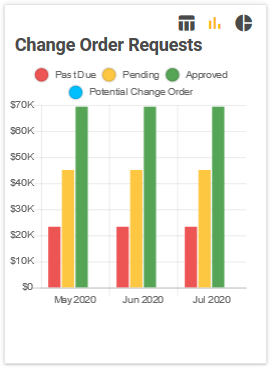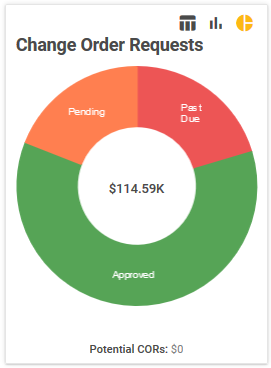 Field Notes
Field notes serve an important role in connecting the office to the field, providing a quick window into the project in real-time. Because of that importance, the Field Notes have taken prominent placing in the Project Summary screen. The newsfeed of Field Notes optimizes the real estate on the screen and provides a scrolling view of job site photos.

Job Costs
eSUB's biggest strength is the ability to track and view real-time job costs through the tracking of labor hours and committed costs through purchase orders and subcontracts. Now, users can get a quick snapshot of job costs against the budget.
Contracts
Will we make money on this project? The Contracts section provides financial summaries detailing real-time job costs, projected costs, gross margin, and projected margin. When a Sage 300 Connector is installed, Project Managers and Executives to view real-time cost details on Project Summary screen directly from eSUB or Sage 300.
Daily Reports and Manpower
Labor is the biggest risk to profit on a project. The new Project Summary dashboards include the ability to view the daily report hours captured against the as-planned hours. When Project Managers enter the As Planned hours associated with the labor activity of the project, they can view the Manpower Report in the Daily Reports module bar graph.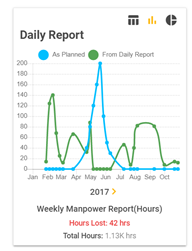 Change Orders over time
Being able to quickly view change orders over time serves as important pulse check on the financial health of a project. Unapproved Change Orders that are proceeded on represent risk and potential Change orders represent opportunity.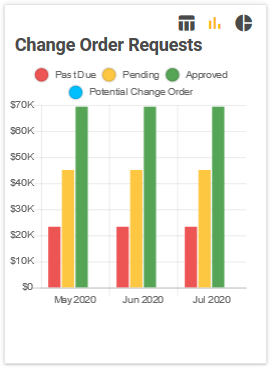 Milestones
Milestones signify the completion of different stages within a project. Now users can view important project milestones visually as well as in a traditional table.

We hope you are excited about our new Project Summary Dashboards. This is much more than a UI update, as this sets the stage for development for more robust and customized reporting and graphs. Thanks for all your feedback and partnership as we continue to make eSUB more modern, modern, and flexible.
NOTE: The launch of the New Project Summary screen will give flexibility to choose which of the six main project key performance indicators to display, see Project Summary Settings.